Another lovely rescue story from one of our students!
You may remember reading the story of Fonsie recently, a rescue horse who has been nurtured over the years by one of our students, Beverly Wallis. Today we are delighted to be able to share the story of Rosie with you - another lucky horse whose life has been changed for the better by one of the Mums of two of our younger students, Claire Dawson:
"On the 14th October 2018, we went to collect a pony from a friend. The pony was Rosie, my friend saw her at the sales looking bedraggled and bony and decided to enquire about her. No, she's not in foal the dealer said, she is ride and drive and 5 years old. So Rosie was loaded and taken home. Within a week she had given birth to Timothy (Tiny Tim)!
Anyway, Rosie was advertised for sale and I went to have a look. I couldn't walk away without her. She looked so sorry for herself even though she was lucky to have been taken home by my friend and cared for, we had a feeling she would be a lovely pony to work with. Evie (Claire's daughter) went for a ride , just a short walk, and Tim followed along behind us at a few months old, enjoying skipping along and racing to catch up when he got left behind.
So, Rosie came home with us a few months later once Tim was weaned. We started off by clipping her as she was in quite a state after having Tim and just to see how thin she actually was under her winter coat. We were shocked to find a lot of scars on her rump, possibly from being whipped whilst driven. After a few days of rest, we brought her back into work and she seemed quite happy to be lunged while Evie rode her. But lunging her without a rider on was a different story, she would trot beautifully, but when asked for canter she would bronk and try to bolt off. This didn't really put Evie of though and once Rosie had a good layer of fat on her we set off for Pony Club. She behaved fabulously and. as it was nearly Christmas, even came home with a little trophy for taking part.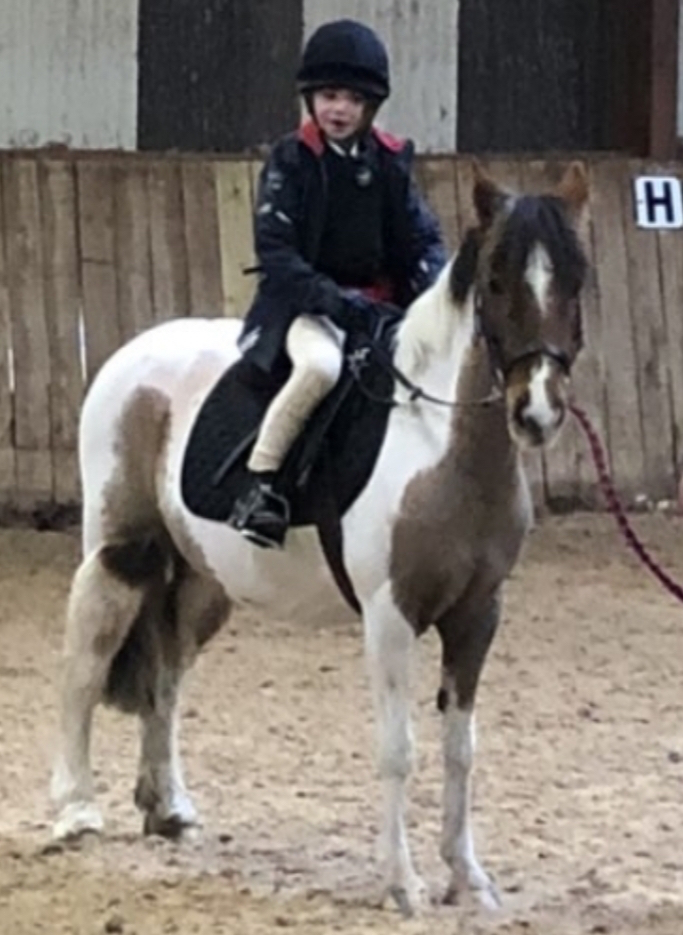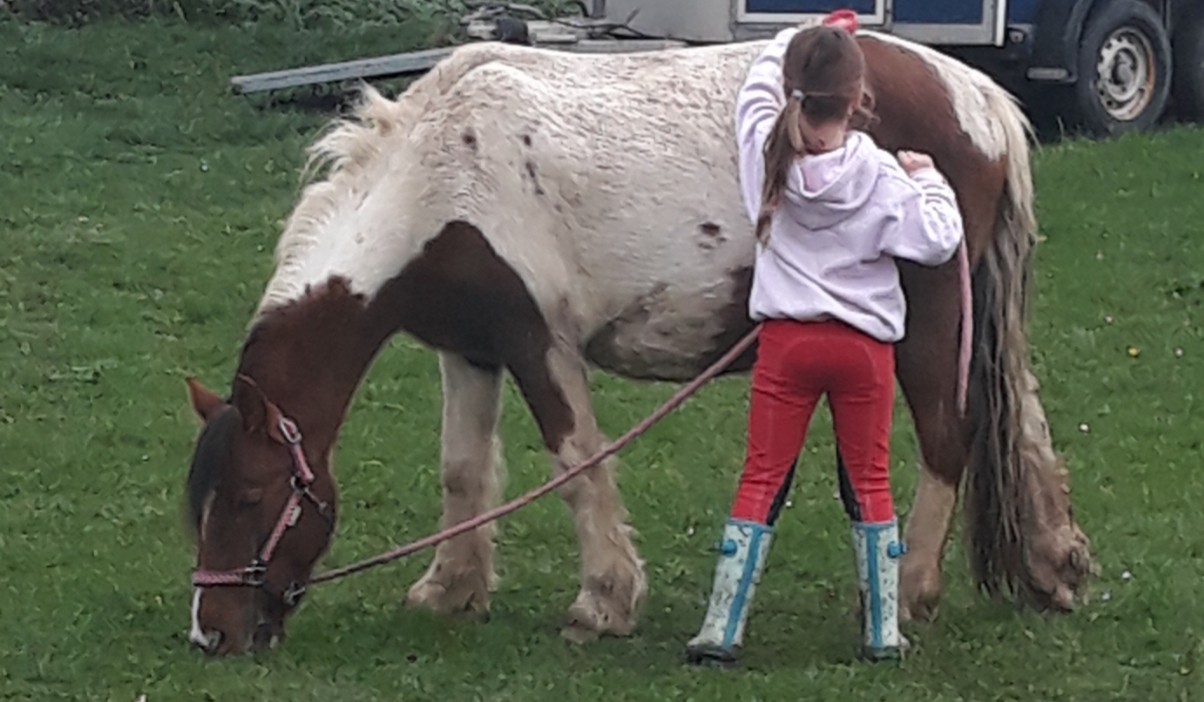 Rosie went to a couple more rallies until around Easter, when we realised she was too green for Evie to come of the lead. So, we went ahead and bought another pony while Rosie had time to mature and chill before being back in work through the coming winter. She was lunged occasionally and ridden by my son Elliot then turned away for the summer in a paddock nearby to ours. One day I went to see Rosie on my evening rounds, and she was fine, next morning she had lost a terrible amount of hair and looked covered in sunburn and bites. We worked out she had photosensitivity and called the vet to do blood tests as it can affect the liver. Sadly, the results came back showing Rosie had extensive liver damage, which was from way back in her past, possibly due to poor, inadequate grazing maybe with ragwort. She is now on liver medication and recovering nicely, but we are waiting for more blood tests to be done to see if the liver damage is reversible. Until then she is having a wonderful life, chilling, being a unicorn, covered up from the sun and just generally pampered. Fingers crossed she will recover and be a nice riding pony one day in the future."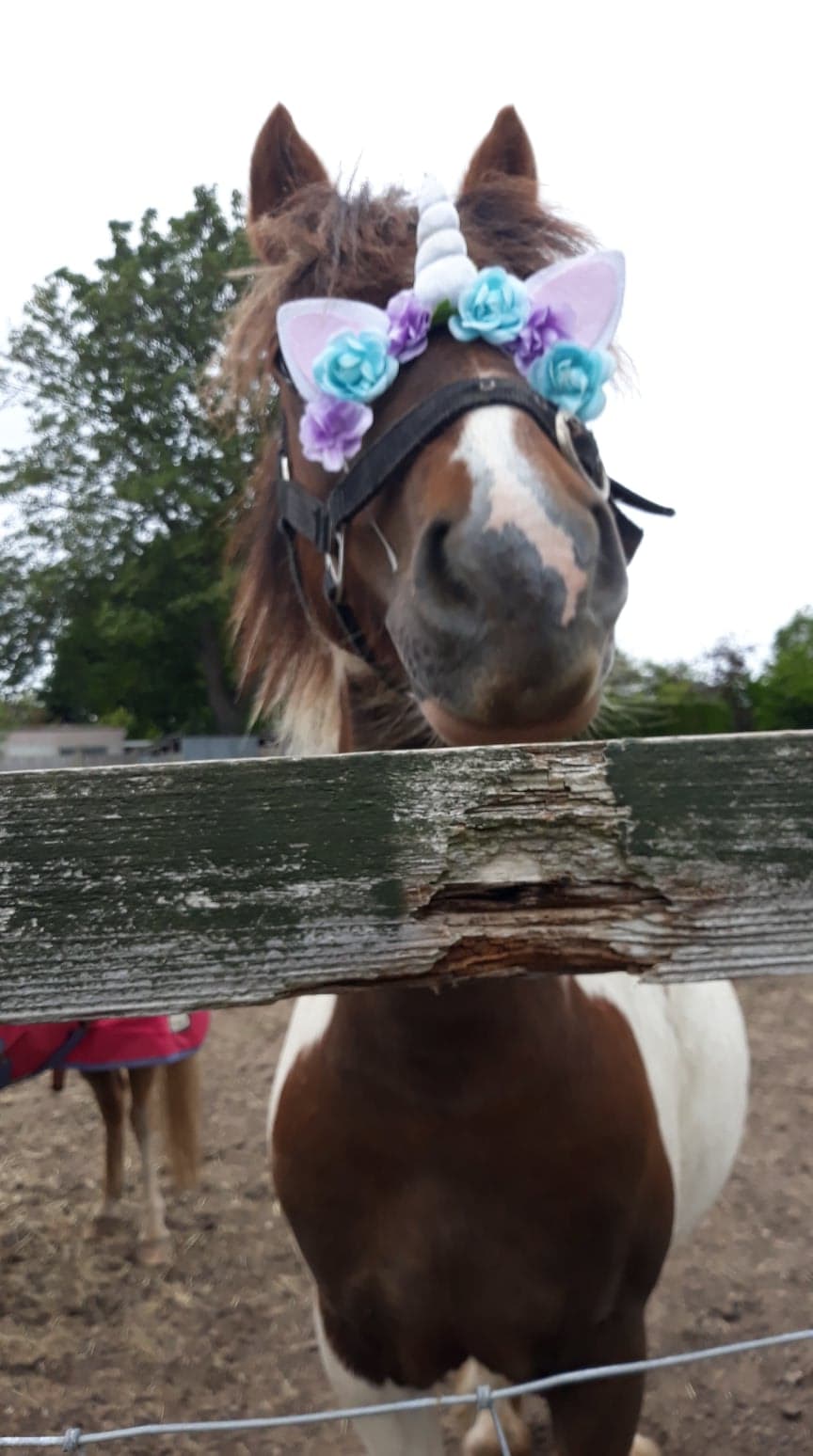 Thank you for sharing this lovely story with us Claire ad we wish Rosie all the best for the future. Please do keep us informed of her progress.